Big Ivy claps back at Mummy Dolarz again with 'Poison Ivy'; social media reacts
Big Ivy claps back at Mummy Dolarz again with 'Poison Ivy'; social media reacts
Internet sensation, Big Ivy, has won over the internet again with her new single Poison Ivy.
The song, which is a reply to Nigeria's Mummy Dolarz, sees Big Ivy dish out jabs at not only her opponent.
Lines like "I'm a Ghana woman with power, something you can't relate to. Shout out to NEPA, you go blackout. This battle, you go back out," has gotten her a lot of applause.
Many netizens appreciate that Big Ivy does not insult or body-shame, something they say Mummy Dolarz did in her previous songs.
READ ALSO: Nollywood actor charged with rape, supplying abortion drugs
Again, Big Ivy compared herself to the God MC, Manifest, who is seemingly impressed with her work.
"Mama Naira I am the Kuwait dinar, highest, coming up against me means you go fall, like my first name Tiwa, men I'm a savage. When it comes to beef, I be like Shatta you go crawl," she raps.
Read some of the responses to her new song: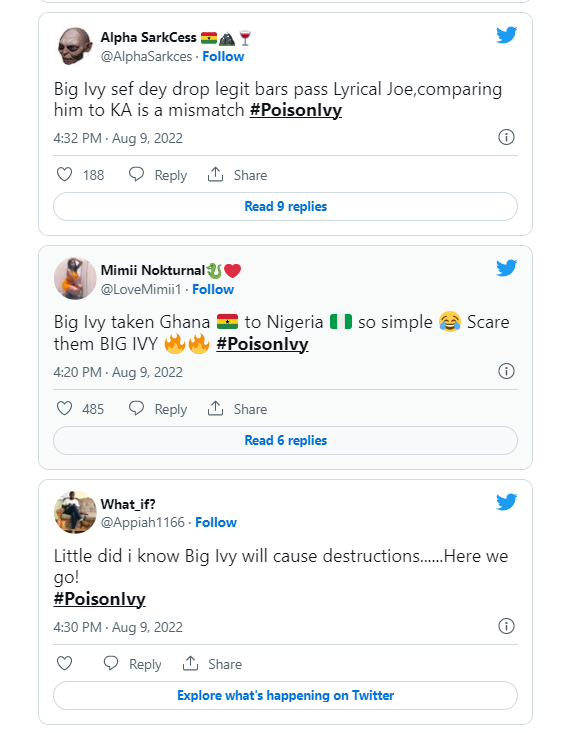 SOURCE : myjoyonline.com
Send Stories |Disclaimer | Social Media
Send your stories for publication to stories@mydailynewsonline.com
Join us on social media...
Post Disclaimer
The information contained in this post is for general information purposes only. The information is provided by Big Ivy claps back at Mummy Dolarz again with 'Poison Ivy'; social media reacts and while we endeavour to keep the information up to date and correct, we make no representations or warranties of any kind, express or implied, about the completeness, accuracy, reliability, suitability or availability with respect to the website or the information, products, services, or related graphics contained on the post for any purpose.