The much-anticipated Sunset Music Festival has been held in a grand style over the weekend attracting thousands of patrons.
The star-studded Music Festival which brought well-celebrated DJs to Alora Beach Resort, Laboma Accra for a night of immersive music and vibes will forever remain indelible in the minds of fans who witnessed the special event.
Setting the bar as one of the largest DJ and artist festivals in Accra, Ghana, the festival drew over 1,000 attendees to the venue's coast.
Sunset Music Festival featured a diverse lineup of top Amapiano, Afrobeat, and electronic dance music DJs, including DJ Rock-E, DJ Toyor, DJ Sly, DJ Raya, Ken & Seth, and VJ Scaro, on a vibrant stage with state-of-the-art sound systems and mesmerizing and striking visual effects.
Later in the evening, before the night's headliner, DJSky assumed the stage, each of the other guest performers took turns to anchor a unique performance that saw them merging music, culture, and nature in a unique and memorable manner.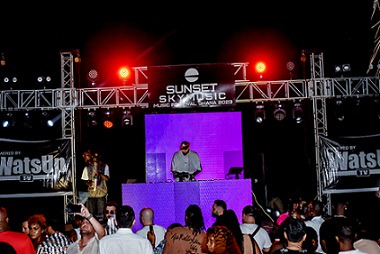 The festival began in the middle of a bright Saturday afternoon, and thousands of music fans from across the nation attended, including a special guest, Hollywood actor, and comedian Michael Blackson.
READ ALSO: McKorley Family To Pay Medical Bills For Tallest Man In Ghana
DJSky climaxed the night's activities with an unstoppable back-to-back fusion of Amapiano and EDMS music—a set that claimed to be a celebration of music, culture, and nature. The night featured a variety of interactive art pieces, food vendors, and other entertaining diversions in addition to the music. The event was Powered by WatsUp TV, The Pan African Entertainment TV Channel.